iPhone 7 Plus cases are now available for orders and pre-orders. It has become customary for all smartphone accessories brands to capture attention of users. And therefore, they release some useful accessories before the launch of gadgets. iPhone 7 has been making rounds for the last couple of months. Taking advantage of this hype, leading brands like Spigen and Olixar have already rolled out beautiful cases for iPhone 7.
iPhone 7 Plus is also in the list of three iPhones Apple is planning to launch in September this year. So if you wish to buy this phone, you should first think of the protection of iPhone 7 Plus. People have already started purchasing cases for iPhone 7; hence, this list of cases for iPhone 7 Plus will surely impress those who dream about this in-demand smartphone.
Best iPhone 7 Plus Cases and Covers
1. Otterbox
This iPhone 7 Plus case is from Defender Series of OtterBox. Give your smartphone a heavy duty protection against accidental drops, dust, and other damages; what impresses users is case's design that doesn't obstruct any function while giving full protection to the device. The triple-layer protection is the key as the case is built from a high quality polycarbonate shell, a tough silicone slipcover and a built-in screen protector. You can save a few bucks you might have spent on your iPhone 7 Plus screen protector. Enjoy hands-free viewing of visual media with the help of belt-clip holster that can also work as a kickstand.
Price: $59.95
Order it from Amazon.com
2. Luvvitt
Luvvitt presents a flexible case which is enhanced by TPU rubber; this gives you perfect grip. Appreciate its raised lip that allows you to put your iPhone 7 Plus on table with its face down. Check the shock absorbing materials and killer design of the case. Users will be impressed by its slim and elegant design; this lightweight case is popular for its seamless integration with your iPhone 7 Plus. Gain access to all ports and buttons with its precisely cut out openings. Enjoy lifetime warranty and premium quality from the manufacturer. This case is made of superior grade first-class material powered by Luvvitt support.
Price: $12.99
Buy it from Amazon.com
3. Tozo
Tozo brings one of the thinnest protective cases for your iPhone. Users love its simple yet elegant design, which is functional. Even if you are frequently using your iPhone, this case ensures that it doesn't gather fingerprints or grease. Thanks to its matte face, which has reduced-reflection feature. Your iPhone is protected from all corners, thus the case offers you 360-degree protection to your iPhone. All corners are covered and the raised edge protects screen of your phone. The case is compatible with 3D Touch and has precise cut-outs that let you access speakers, charging ports, audio ports and buttons. Last but not the least, its protective ring for camera hole; the ring has protective layer, which is perfect for mobile camera.
Price: $8.99
Order it from Amazon.com
4. MP Mall
This clear case from MP Mall is particularly compatible with your Apple iPhone 7 Plus. Its custom design easily fits on your iPhone with perfect openings allowing effortless access to all buttons, controls, sensors and ports. The case is shock absorbent and scratch resistant as it is made with gel TPU material to safeguard your phone against accidental drops and scratches. Give your eyes visual treat with its slim profile and lightweight body. Feel minimum bulk in your pockets, though its slightly raised edges guard the screen when you put your iPhone face down. You can comfortably use your phone with its flexible and durable body.
Price: $29.99 [$7.99 while writing this on Amazon.com] Shop it from Amazon.com
5. Ringke
Ringke Frame is bolstered with an anti-scratch coated PC clear back for your iPhone 7 Plus. Now flaunt your prized possession and protect it with Ringke's dual layered bumper, which protects the phone against drops. Thanks to its TPU cushion and PC frame bumper that gives enough security. Users would also like its active touch technology which is designed for more natural responsive feel especially when they are pressing volume and power buttons.
Price: $32.00 [$3.99 while writing this on Amazon.com] Purchase it from Amazon.com
---
Don't Miss: Best iPhone 7 Plus Cases
---
6. Oeago
Oeago has designed this beautiful case for iPhone 7 Plus. If the thought of drop scares the daylights out of you, check that extra grip to your device that prevents accidental drops. You can easily press the buttons even while your phone is covered. Appreciate its shock absorbing engineering, which evenly distributes and circulates the impacts into the bumper. Its premium coating gives you soft feeling texture while you are holding your coveted iPhone 7 Plus.
Price: $7.18
Buy it from Amazon.com
7. Peyou
Peyou brings an iPhone 7 Plus case that perfectly fits on the device. Its premium material can easily stun you with its robust coating PC and premium soft TPU. You can hold your iPhone with soft rounded edges that offer comfortable grip. The case is precisely designed to let you operate all ports, buttons and controls on phone. It offers maximum protection with toughened corner security against accidental drops. Despite being such a robust and protective case, it has retained its thin profile.
Price: $19.99 [$7.99 while writing this on Amazon.com] Shop it from Amazon.com
8. LK
The case is perfectly designed for iPhone 7 Plus. Users are awestruck by its ultra thin body that provides maximum protection without adding much bulk to your pockets. This case is made of smooth and premium quality TPU; this makes it flexible yet tough. Moreover, the case offers ultimate protection against sudden drops and falls. With this case on your iPhone 7 Plus, you need not to worry about dirt and stains. Its unique design lets you access all controls, ports and buttons on your iPhone. It is quite easy to install the case on the phone as LK has crafted this case to be lightweight and elegant.
Price: $29.99 [$7.99 while writing this on Amazon.com] Order it from Amazon.com
9. Tauri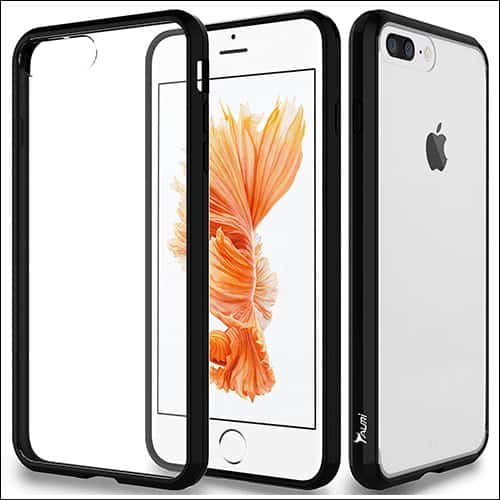 Tauri presents a premium case for iPhone 7 Plus. This case is highly compatible with your iPhone as it allows easy access to all buttons, ports, camera and other controls. Admire its dual layered protection with crystal clear soft TPU interior that gently touches the back of your iPhone 7 Plus. Exterior of this case is made of hard PC shell to resist scratches and shocks. Check out the raised outer edges that safeguard your phone's screen from being damaged. You can comfortably hold this case as its slim profile offers easy grip that stops sudden drops and falls.
Price: $8.99
Purchase it from Amazon.com
10. ANLI
Floral pattern on the back of the case instantly captures women's attention. This case from ANLI can easily impress your love interest so you can gift her on her birthday. About its features, the case boasts soft bumper which helps take up shock combined with an anti-slip finish. This further protects your phone against bumps and accidental drops. Slim fitting and lightweight features enable you to carry your iPhone 7 Plus in your trousers' pockets. You can effortlessly snap on and off installation with precisely cut out openings on the case.
Price: $29.90 [$7.98 while writing this on Amazon.com] Buy it from Amazon.com
11. EC
Protection, comfort and functionality – get all the three features in a single EC case for your iPhone 7 Plus. For protection of your phone, this case has advanced two layers and corners moulded polycarbonate. For comfort and convenience, the case boasts built-in kickstand and belt holster. And for functionality, the case provides easy access to buttons, camera, headphone jack, speakers, microphone and charging port; moreover, this case is available with a stylus to enjoy the best touch screen experience on your iPhone 7 Plus.
Price: $29.99 [$8.59 while writing this on Amazon.com] Shop it from Amazon.com
Every iPhone lover is keenly waiting for iPhone 7 Plus. You can buy these cases right now, so that you will be inspired to buy your favourite iPhone 7 Plus upon its launch. Though this is not the right time to ask you for feedback, you can share some good insights about what features you expect in a case for iPhone 7 Plus. Write your suggestions on Facebook, Twitter and Google+.